We will be giving you weapons this fall.
And no, this is not about the Molotov cocktails that Putin invented at his press conference.
Something cooler!
You will have the most effective weapon in your hands against the enemies of Russia. And it is not prohibited by any laws.
The enemies of Russia are Putin and the United Russia deputies. And the weapon against them is Smart Vote.
Now the United Russia members in the State Duma can do whatever they want. They can pass absolutely any law. And no matter how other parties resist this, they have too few deputies to interfere with United Russia. It is United Russia raised our retirement age – Now many of our fellow citizens simply will not live to see retirement. They are the ones increased our VATand, of course, this immediately led to a rise in prices.
This party is literally stealing the future from Russia. Because hundreds of billions, which they spent all these years on their palaces and yachts, could be spent on the development of the country. But instead, before each election, a sleek United Russia party goes, for example, to pensioners and says: well, yes, your pensions are small, and we have been in power for 20 years, but let's vote for us one more time, now we will EXACTLY live.
At each election, United Russia members, with the help of lies and manipulations, retain their warm seats and continue to enrich themselves while the people become poorer.
But now we have a chance to repulse these invaders who have stuck to the budget of our country.
You can do it in the elections to the State Duma on September 19…
How to defeat United Russia? If the majority of people honestly voted for it, this would be impossible. But no! United Russia benefits only from the fact that all who disagree with its policy cannot unite. Their votes are simply smeared across a dozen other candidates. But we can prevent this with Smart voting…
The essence is very simple: that everyone who is against United Russia should unite and vote not to ten different candidates, but to one and only one. The one who has the most chances to defeat United Russia. If all these votes are not scattered, but added together, in the end there will be more of them than the candidate from United Russia, and he will lose miserably. And if they vote in this way in every district, all United Russia members will lose.
So, in September elections, you will come to the polling station and receive two ballots. The first ballot will contain the names of the parties. Everything is clear here, vote for any party except United Russia, no Smart voting is needed here. The second ballot will contain the names of candidates specific to your constituency. It will be more difficult to choose – this is where it will help you Smart voting…
To find out the name of the strongest candidate in your district, register on Smart Voting website, and the recommendation will be sent to your email. Or download the app (for iOS or Android), and you will receive a push notification.
In each constituency, it will be a candidate from different parties, but always – the strongest rival of the "United Russia". This will be the one who got the most votes in the last elections, the one who campaigned and met with voters the most. To identify this person, we will analyze all candidates in each district. United Russia will still receive its 30%, but we will unite the rest of the votes against him and in the end we will win. After all, simple mathematics comes into play further.
If all voters who do not like United Russia vote for one opposition candidate, then no Pamfilova with her miracles can change the result.
Smart voting has already worked in regional elections. For example, there were only seven non-United Russians in the Moscow City Duma, and thanks to Smart Voting elected 20 opposition MPs. Previously, there was the vice-speaker of the main Moscow United Russia member Metelsky, who there are four hotels in Austria, and not only in Austria – and now he just flew out of the Moscow City Duma.
In Novosibirsk and Tomsk, a similar story, but in Tambov, out of 18 United Russia members, only one remained! In all these cities, deputies have appeared who are not afraid to raise sensitive topics. They are not afraid to criticize the authorities from the rostrum, make useful parliamentary inquiries and help ordinary people.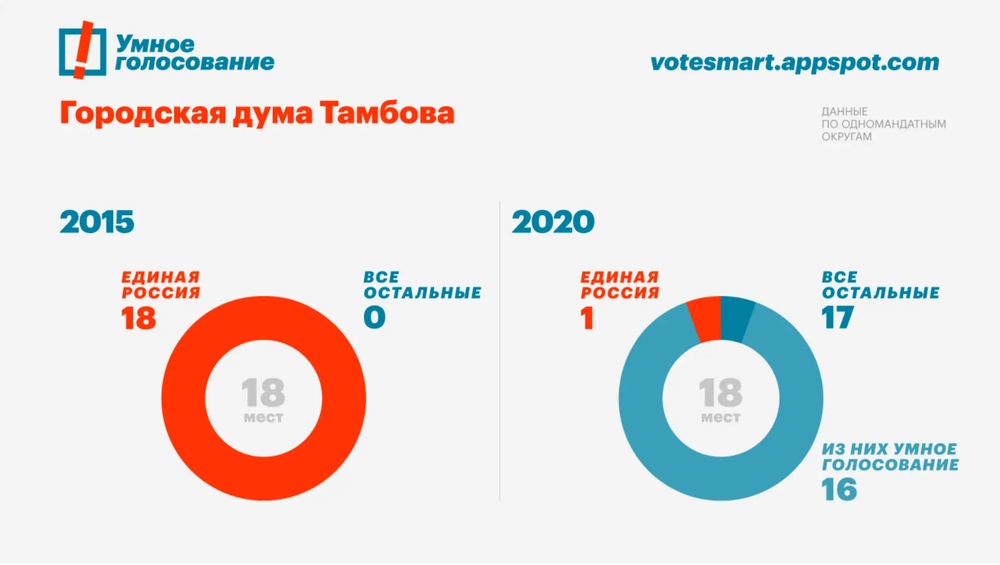 The candidate for whom you have to vote may not have views that are close to you and frankly may be unpleasant, well, yes, it happens. But firstly, even such an unpleasant candidate will be many times better than any United Russia party, and secondly, in a situation where there are no fair elections in the country, our main task is to destroy the monopoly of United Russia. The more non-United Russians are in power, the worse and more painful the party of crooks and thieves; they don't know what competition is at all, so they will make even more mistakes and lower their already low rating even lower. The more candidates from Smart voting will pass to the State Duma, the bolder these same candidates will behave there. It is much easier to criticize United Russia and expose his corruption when you know that you are behind the real votes of voters who expect action from you.
Everyone benefits from this. Well, except for United Russia, of course.
Smart voting invented in 2018 Alexey Navalny. Since then, Navalny's headquarters have been banned, and they tried to kill Alexei himself, and then put him in prison. Because the Kremlin understands that if we manage to reach out to everyone who is against the government, this will be the end for United Russia and for Putin.
Therefore, we ask you to do two things for you:
one. Cast aside all doubts and skepticism and go vote smartly in September. We understand perfectly well that it is difficult to call it elections, when people are imprisoned for wanting to participate in them. But now there is a historic chance to unite against a common enemy.
2. Register yourself and call your friendson the Smart Voting siteto find out who to vote for in your district to defeat United Russia. The more people vote smartly, the less chances United Russia has. In the elections in Moscow, there were cases when literally a couple of hundred votes were not enough to defeat United Russia in a couple of districts. The more of us, the better.
We can win. And let's do it. Smart voting… Together against United Russia!