I wanted to write this for a long time, but forbade myself, because it seems like you are making a scandal. But after visitedalbeit through a video conference, as a witness at the trial of Lilia Chanysheva and saw her, so amazing and not broken, but also alone at this terrible closed trial in Ufa (everything will end, of course, with a huge time), I can't help but write.
I feel like I'm betraying her with my silence.
Lilia Chanysheva was our coordinator in Ufa. One of the best coordinators, but now they are dragging her around prisons and pre-trial detention centers not at the level of a coordinator, although they are all seriously persecuted. She passes just like one of the leaders of the extremist community. They arrested her before everyone else, kept her in a pre-trial detention center in Moscow for a long time, and the investigator just told me: "We have an installation that Chanysheva is Navalny in a skirt."
We know that it happened because the gangster mafia in the leadership of Bashkortostan was so furious because effective actions of Chanyshevain particular, for the protection of Shikhan Kushtau And investigation into corruption of the family of Governor Khabirovthat they separately lobbied for her landing at the highest level. Khabirov personally did this, and the ideological base for landing cooked such a disgusting PR crook by the name of Murzagulov.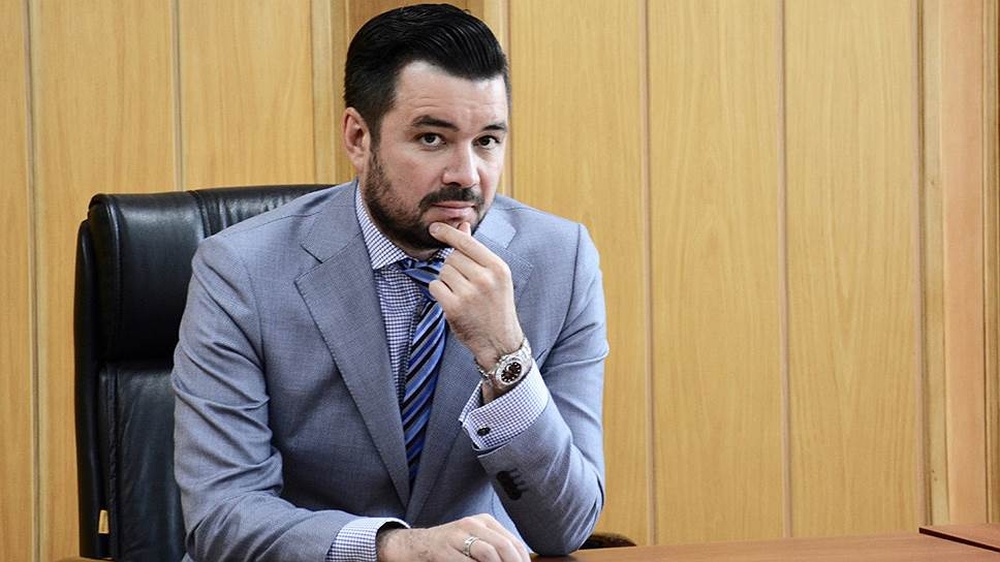 With every governor, and even with every authority, there is such a baited bastard.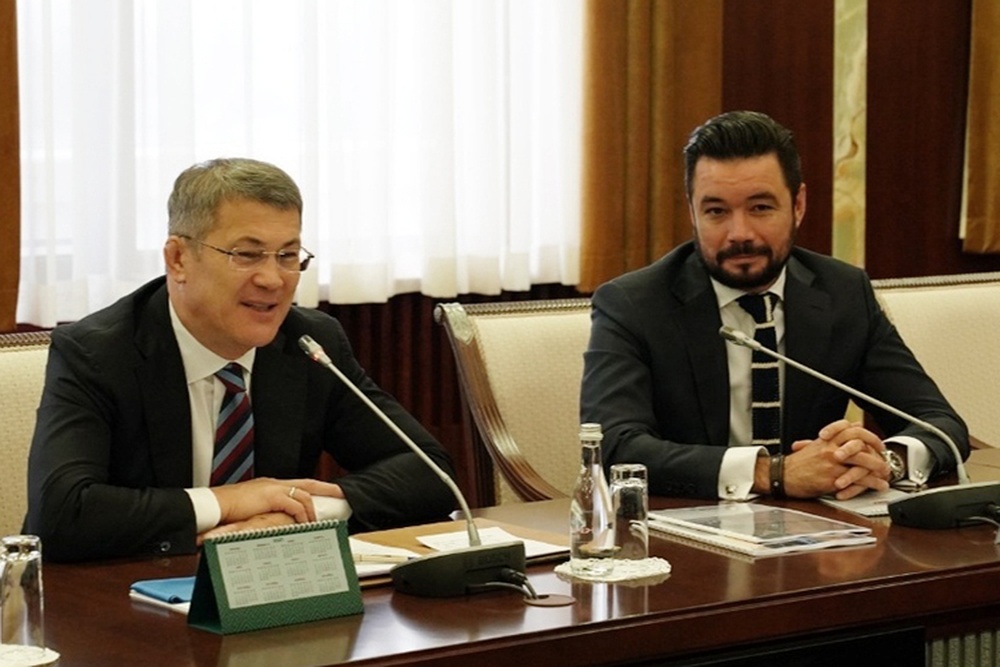 Khabirov and Murzagulov
He writes articles – public denunciations, which later turn into criminal cases. Usually I don't even know their names, but I remember this Murzagulov for the way he always dangled after Radiy Khabirov like a tame poodle: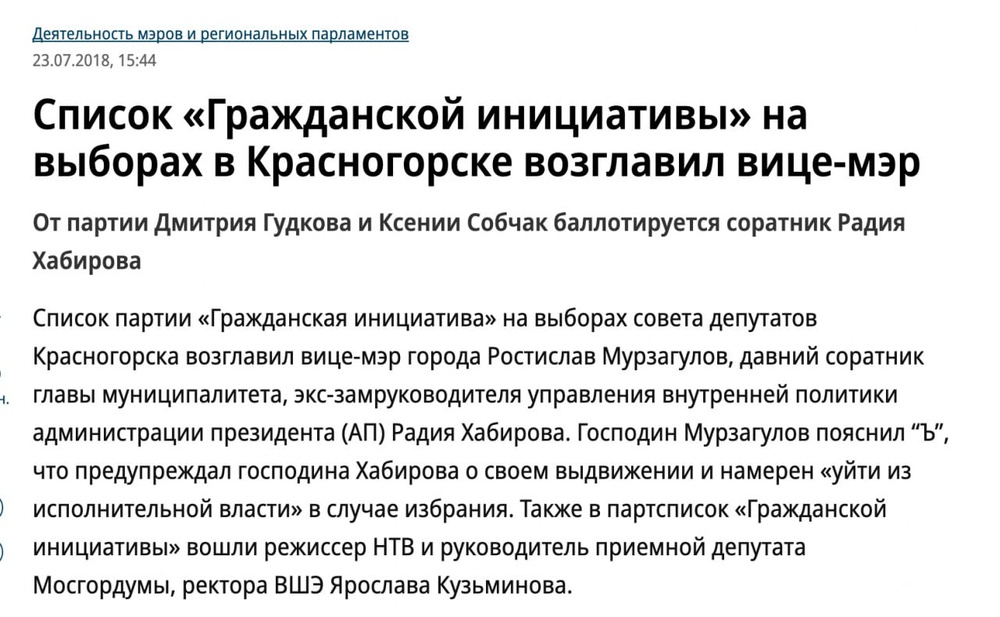 And, of course, for the way he especially scolded (1, 2) in harassing Chanysheva and our Bashkir headquarters.
And this Murzagulov hired Mikhail Borisovich Khodorkovsky.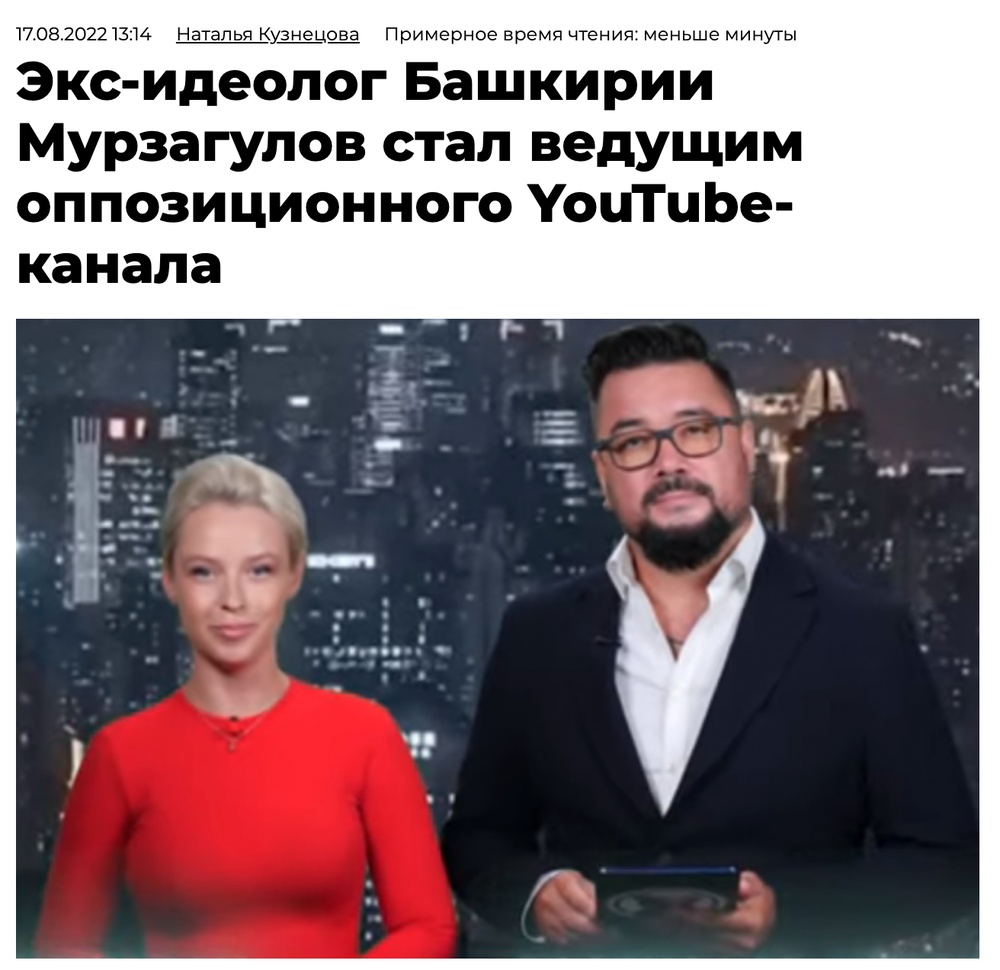 When they told me about it, I didn't believe it. How can this be done? This is not some Putin swindler from the early 2000s. He just recently imprisoned an honest man who is being judged right now.
But then they sent me appeal Chanysheva's husband to Khodorkovsky, and other evidence, and most importantly, disgusting grimacing (I can't name it otherwise) Khodorkovsky's own comments on this topic. Like, you need to be able to work with people from the other side, and indeed now the main and only criterion is the war, and if someone is against the war, then it doesn't matter at all what he did just yesterday, he is still on our side.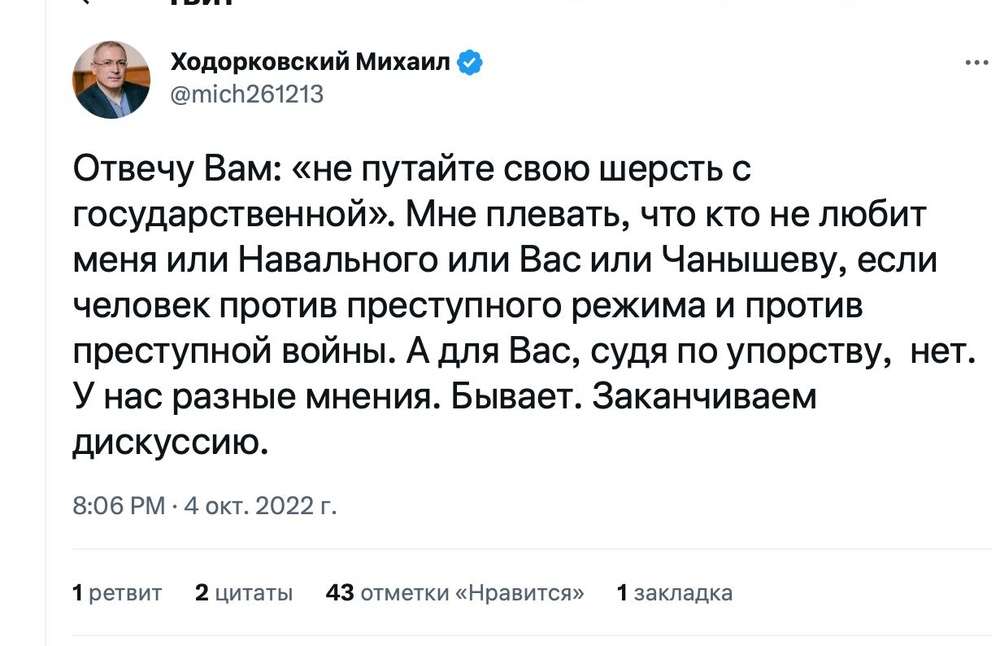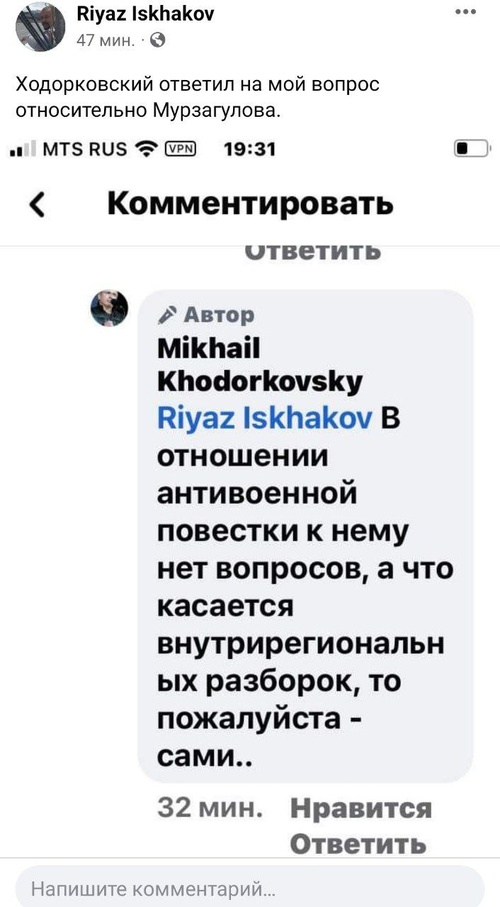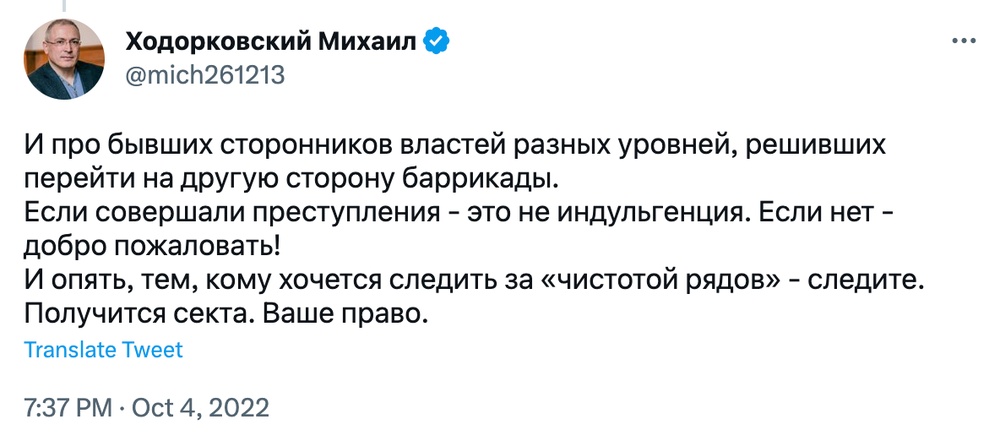 I want to say that I am very ashamed of Mikhail Khodorkovsky. For how he behaves in this situation. For being hypocritical. For how he insulted Chanysheva and in her face our entire structure. Because he feeds the bastard Murzagulov and imposes him on everyone as an oppositionist and opponent of the regime.
I have already heard the argument about "you need to work with people from the other side". Moreover, from Khodorkovsky, when in 2016 he took over the election campaigns of some crooks from state channels. Timur Valeev, Maria Baronova, remember those? All failed, got money and went back to the other side.
But about the argument "only the war and the attitude towards it are important now" – this is the very disgusting antics. A successful exercise "how to dissemble Putin himself." As for Putin, "the war will write everything off," so here the war will write off everything and wash every scoundrel white if he writes a post on Facebook. Whatever Murzagulov and people like him say, they are not only not against the war, they staged this war, they created the conditions for it with all their might. Because the prologue to this war was the purge of any activists, in the first place, our headquarters as the only structure that could organize anti-war rallies throughout the country.
Chanysheva is in prison because Khabirov and Murzagulov successfully proved to the Kremlin that she is dangerous, and the Kremlin realized that it was impossible to leave her free during the war.
I'll say it separately for those idiots who will definitely come here and say: "In a crisis situation, you can't stand in a white coat, you need to be a pragmatist and unite with everyone."
OK. For you, I put on a nasty, stained, tattered, rational coat of political pragmatism. Realpolitik coat.
So what. I'm standing in this coat next to Khodorkovsky. I'm very disgusted. And what pragmatic benefits do we have? What did Murzagulov add to our movement? What benefits have we gained? Has our support increased? There is so much pathos about people from the other side, as if Solovyov and Simonyan were recruited, but so far only the smallest, cheapest and unknown corrupt riffraff is listed in the acquisitions.
But we dealt a blow to the morale of the activists. But now any interaction with Khodorkovsky is a bewilderment of all regional activists and accusations of betrayal and hypocrisy. This is the bewilderment of a huge number of excellent journalists who were left without a job, that it was not a decent person, but Murzagulov, who got a well-paid job with the only oppositionist with money. Therefore, in this situation, I definitely take off the realpolitik coat, it is disgusting to stand in it, but there are no benefits. And I'm ashamed of Mikhail Khodorkovsky. I hope you do too. And I hope that when many people tell him this directly, he will understand something, and he will also be ashamed.